Archive for the Traffic Building
May 10th, 2012
Online businesses take time to grow, especially in the first year. If your online store is quiet and you're waiting for visitors to come and buy, it's easy to get discouraged. The moment the advertising ends, so does your traffic.
What if you could get visitors to your online store for free? And, not just that, the visitors keep coming for years to come. How does that sound? One of the best methods of generating traffic to your website is by writing and sharing articles. This is not a  'get rich quick' or some other type of scam. It's just plain old fashioned article marketing.
Now, even if you aren't a writer, you can use this method of getting traffic. It doesn't take a degree in Literature to succeed in article marketing. All it takes is a little time and energy. If you have that - you can get traffic to your website.
It's actually quite simple and it is underused, especially in ecommerce businesses.
All you need to do is write a short, simple, helpful article about something related to your online store. If you sell makeup, then write an article about how to choose a foundation color, or how to care for your skin during the winter. Or write a review about a particular product you sell. Once you've written your article, you submit it to the article directories.
Article directories are libraries of free articles. They are collections of articles that website and blog owners can use on their sites for free. The only stipulation is that everyone who publishes your article must include your author bio at the end which is where you include your website URL and some intriguing information about your online store.
Having articles in various article directories is a great way of providing links back to your online store, thus building your site's popularity. When a page has many links back to it it helps to attain a good placement in the search engine results. An article directory which has a high page rank is the best place to submit articles, as this helps to boost your page's rank as well.
During the process of article marketing, don't submit an article that is already on your own website without modifying or spinning it to give it at least 25% uniqueness. It could be considered duplicate content if you just submit copies to all the article directories and you don't want that!
Use keywords in your article's title and in the beginning of the first paragraph. Spread your chosen keyword/phrase throughout the article as well.
Most article directories allow you to use hyperlinks. For superior article marketing, use anchor text that relates to the keywords you are targeting. This will help you attain a better position in the SERP's (search engine result pages). If you are targeting "makeup tips" make sure to hyperlink those keywords/phrases in your article or bio box. This will help your online store get higher in the search results for the term "makeup tips".
Here are a few article directories to submit your articles to: EzineArticles.com, GoArticles.com, Amazines.com, ArticleDashboard.com, Buzzle.com, iSnare.com
In summary, article marketing should be an important element of ecommerce marketing. Now that you see how simple this free method of generating traffic is, give it a try. You have nothing to lose and much to gain.
March 15th, 2012
We all want visitors to our website but more importantly we want them to stay and spend money on our website. Below is a list of five ways on how to drive visitors away from your website screaming "Get me outta here!" If you prefer being alone with your website and don't want all those pesky visitors bothering you, then follow the guidelines below and you'll get rid of them quick as a blink.
1. Don't state on your website what you do or what you sell. Make it a complete mystery. It's like a secret club -- your visitors are left in the dark. Have you been to websites like this where you show up and think "What the heck is this site about?" If you're not presenting a clear statement about why your visitors should spend their money (or at least come back again), then you're on your way to the bottom of the abyss.
2. Overwhelm visitors with lots of information. Almost as bad as the "What the heck is this site about?" problem is the "Oh my Goodness! Oh my Gracious!" sites. As a visitor, you know the sites I'm talking about. The page opens and your jaw drops. There is a sea of banners and links everywhere. Where do you go? What do you do? I'll tell you what I do: Click the little "x' in the upper right-hand corner to get the heck outta there!
3. Make the ordering process really complicated. There's nothing I love more than putting items into my shopping cart and then spending 20 minutes trying to figure out how to set up an account and pay. Guess what? I sure don't click the 'contact us' button. I click the "x" instead. You've succeeded in getting rid of yet another pesky customer who wanted to spend money.
4. Fill your site with outdated information and broken links. Phew. You dodged a visitor with that one. They clicked on a link that was broken -- and off they went.
5. Make sure there's no way for an interested customer or business partner to contact you. Heaven forbid, you might get some spam if you have your contact information on your site.
Thank Goodness you don't have those gosh-darned customers emailing you while you're trying to read up on your favorite celebrity's love life.
Obviously, I'm being silly, but you do know that these examples are true. You've seen sites that seem like they are trying to drive you away. If you are spending time and energy putting up a website to make money, then make sure you do it right!
March 12th, 2012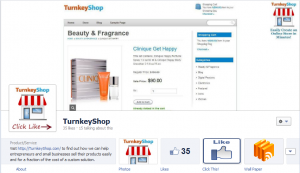 With the deadline for the new Facebook timeline fast approaching on March 30th, 2012, you will need to convert to the new format sooner rather than later. Your current images may not be optimized to fit the new timeline format. You will also need to set a Cover Photo to make your page look more professional. In addition, calls to action on the new Cover Photo are not allowed under the terms of service. So what can we do to continue to get more Likes with the new Timeline format? Below are five ways to customize and optimize your Facebook's timeline...
1. Direct people from your website to a Welcome tab
If you currently have an iframe page tab setup to direct fans to a call to action (most likely to click the "Like" button), it will no longer default to that page from your vanity URL. However. each tab still has an unique URL that you can use to send people directly from your website, article, signature, etc. One benefit of the new tab pages is more horizontal space to get your message across.
2. Point arrows on your Welcome page to the top right
The Like button used to be in the top left area of a Page tab. On the new Facebook tab pages, the Like button is in a fixed position on the top right of the Page tab. If you currently have an arrow on an iframe Page tab, you should probably change it to point to the top right.
3. Use custom tab images for calls to action
On the new Facebook timeline, there are visible tab images (111 x 74 pixels) which contains plenty of room to include text and images. You can get creative with these by adding call to action text within the images too. You can also select which tabs you want to be visible.
4. Add a Click Like arrow to your Profile Picture
Although Facebook doesn't allow calls to action on your Cover Photo, they don't say anything about having a call to action on your Profile Picture. You can sneak in a subtle suggestion to click the Like button that's to the right of your profile picture.
5. Pin and/or Highlight great content on your timeline
You can pin specific content to the top of your timeline and pinned posts will stay at the top for seven days. If you have a particularly popular blog post, be sure to pin it (and pin it again). You can also highlight specific content on your timeline which will increase the size of the post on the timeline.
Make sure to test multiple approaches to find what works best for your brand and remember that people will be more willing to Like your page if they see it as a source of great content that's relevant to them in some way.
Please feel free to post your comments below with any approaches or tips to maximize the new Facebook timeline.